CONCERNING TO GO ON TO HIGHER EDUCATION

ABOUT GOING ON TO HIGHER EDUCATION
1. GO TO GRADUATE SCHOOL,UNIVERSITY,JUNIOR COLLEGE,VOCATIONAL SCHOOL
Master
Study period: 2-3 years
To put it simply, graduate school, which is one of the career paths after graduating from university, is to apply the knowledge and theory learned at university to carry out further academic research.
The image of a graduate school is that aims to be a university professor or researcher, but it is said that it is advantageous to go on to graduate school and acquire specialized knowledge and skills, especially in the case of science.
University
Study period: 4years
Universities are educational institutions that provide education to acquire a wide range of education while studying academic and theoretical studies.
In the liberal arts course, which is the basis of learning at the university, it is possible to learn not only the academics related to the faculty / department that you entered, but also the basic knowledge of various academics. If you are in a university with a system for taking courses in other faculties, you may be able to study non-specialized disciplines above the introductory level.
Unlike up to high school, one of the characteristics of the university is that you can create your own timetable according to your interests. Although there are some restrictions depending on the required courses (courses that must be taken), you can freely decide the schedule of student life according to your purpose and lifestyle .
There are many activities that require independence and cooperation, such as seminar activities, research activities, and club activities, and you can acquire basic skills to be a contributing member of society.
4-year university transfer
---
Transfers include 2nd year transfer, 3rd year transfer, and 4th year transfer, but most are 3rd year transfer. For international students, some graduate from a junior college (2 or 3 years of enrollment) overseas,
and many students aim to transfer to a Japanese university in the third year. When they graduate in the fourth year, they are given a graduation qualification from a four-year university, which is advantageous for employment in Japan, so many students want to transfer in to a university.
Junior college
Study period: 2-3 years
Compared to university, there is more training time, and you will learn knowledge and skills through practical training using a hand-on approach as well as studying at your desk, so you will be able to acquire the ability to work immediately after graduation.
A junior college that combines the good points of a university and a vocational school may be a perfect fit for those who want to acquire qualifications in a short-term concentration and utilize those qualifications as soon as they graduate.
Vocational school
Study period: 2-3 years
A vocational school is a &vocational school specialized course& and is a higher education institution that mainly provides vocational education.
Departments and curriculums are prepared to acquire the knowledge, skills, and qualifications required for a specific profession, and after graduation, profession selection is made based on what has been learned.
The biggest feature of a vocational school is the large amount of training. In order to acquire the ability to work immediately after graduation, "learning with the body" is emphasized. At a vocational school that has a lot of training time, it is forbidden to be absent, late or leave early. If you take a day off, you will be far behind other students.
2. Schedule for admission at Daiwa Academy
April / July / October: Admission to Daiwa Academy
June and November: EJU Examination for Japanese University Admission for International Students
July and December: JLPT Japanese Language Proficiency Test

・To go on to graduate school, you need to have Japanese proficiency level of Japanese Language Proficiency Test N1 or higher.
・N1-N2 level is required to transfer to a 4-year university or a 4-year university in the 3rd year. Since the EJU Examination for Japanese University Admission for International Students is often required to enter university, it is desirable to take not only the Japanese Language Proficiency Test but also the Examination for Japanese University Admission for International Students.
・To enter a junior college or vocational school, you need at least N3 level Japanese proficiency.
・Every year from June to September, student can participate in university / junior college / vocational school advancement briefings and open campuses, based on the learning status of the specialized knowledge they want to study at each school and the employment status after graduation. Decide the course you want to go to. Once you have decided on your school of choice, we will proceed with the tuition, scholarship, and admission procedures. Recently, some popular universities and vocational schools have started the entrance examination from August, and some schools close the recruitment when the capacity is reached.
・It is necessary to prepare for the entrance examination before the summer vacation and to begin preparing for the entrance examination from the fall.
卒業生の進学先
大学院
⼤阪⼤学

国立

九州大学

国立

横浜国立大学

国立

神戸大学

国立

名古屋大学

国立

北海道大学

国立

長崎大学

国立

三重大学

国立
大阪府立大学

公立

大阪市立大学

公立

神戸市立外国語大学

公立
早稲田大学

私立

慶応義塾大学

私立

明治大学

私立

法政大学

私立

立命館大学

私立

関西大学

私立

関西学院大学

私立

大阪経済大学

私立

國學院大學

私立

同志社大学

私立
大 学
京都外国語大学

私立

羽衣国際大学

私立

神戸医療福祉大学

私立

天理大学

私立

名古屋商科大学

私立

相愛大学

私立
専門学校
エール学園

駿台観光アンド外語ビジネス専門学校

大原学園

専門学校アートカレッジ神戸

ホンダテクニカルカレッジ

大阪デザイナー専門学校

大阪ファッションアート専門学校

関西社会福祉専門学校

近畿社会福祉専門学校

東京国際ビジネスカレッジ

日本モータースポーツ専門学校
CONCERNING TO JOIN THE WORKFORCE
ABOUT EMPLOYMENT
EMPLOYMENT STATUS OF INTERNATIONAL STUDENTS IN JAPANESE COMPANIES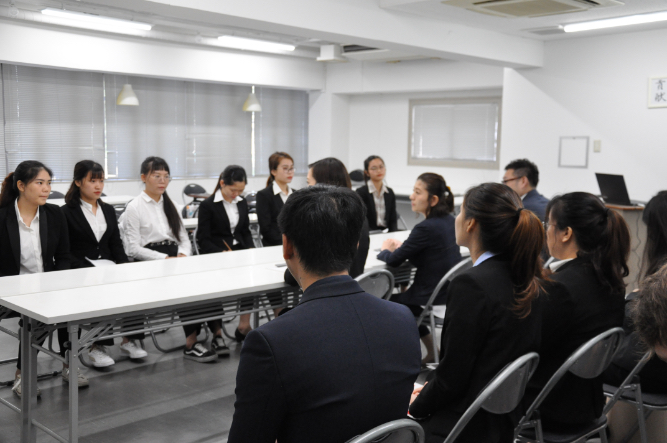 The number of employed international students in Japanese companies was 9,684 in 2007, but it has decreased for two years due to the influence of the Lehman shock. However, there has been a recovery trend since 2010, and the employment rate of international students at Japanese companies has been around 20% to 30% for the last 10 years. The number of international students employed in Japan in 2014 was 9,678.
It has recovered to the level before the Lehman shock.
In 2018, 30,924 foreigners residing with a status of residence such as "College Student" (hereinafter referred to as "international students") applied for permission to change their status of residence for the purpose of finding employment in a Japanese company, etc. Of which; 25,942 successfully received their work permits, an increase of 2,998 (10.7%) from the previous year's of number 27,926, and an increase of 3,523 (15.7%) from the previous year's successful number applicants of 22,419.
EMPLOYMENT SCHEDULE AT DAIWA ACADEMY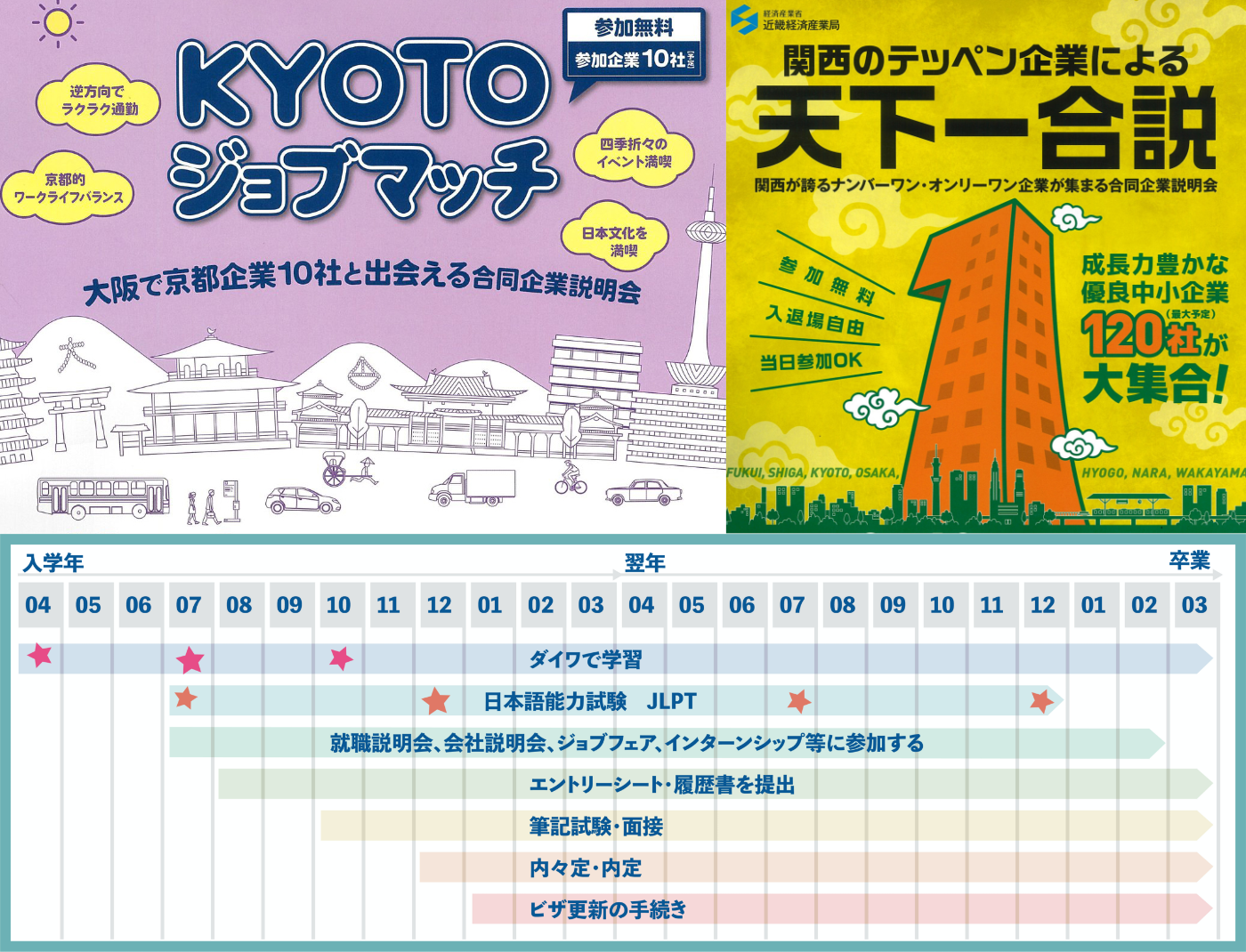 ・To get a job at a Japanese company, it is desirable to have N2 level Japanese proficiency, depending on the type of business.
・To get a job at a Japanese company, you need a diploma from a university, junior college or vocational school.
・Having TOEFL, IELTS or TOEIC is advantageous when applying for a job.
CONTENTS OF THE EMPLOYMENT PREPARATION CLASS AT DAIWA ACADEMY

In this class, you will also learn how to handle job interviews, raise awareness about working for a Japanese company in the future, and make a good impression on your employer.
This is very important to work in Japan
1. Interview preparation: How to use honorifics (speaking), grooming (clothes, hair, posture, makeup), greetings, room entry and exit, sitting, job interview etiquette and measures, how to write a resume
2. General manners of Japanese companies: greeting exchange, rules for serving tea, rules for seating order, necessity of Ho-Ren-So (reporting / contact / consultation), manners for telephone, manners for email, professional behavior and wording like working people, etc.
3. Manners for company visits: Preparations for company visits, before entering the building, reception, waiting room, entrance / exit to the interview room, etc.
STUDENTS EXPERIENCES
VOICE OF GRADUATES
List of graduate voices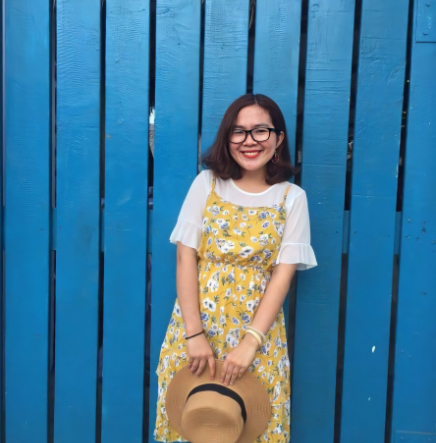 Nguyen Huong Nguyet Quynh
Nationality:Vietnam
Company:Nisshin Kasei Co.,Ltd.
To Teacher
It was tough when incorporating material into classes and assignments, but it was very easy at other times. I will inevitably compare the class of the teacher in charge with the substitute teacher. It was tough, but after I left school, I realized how important it was. The teacher gave a realistic opinion about the course. Thank you for clearly stating, &This course is impossible at your current level.& This enabled me to realistically change my goals to something more achievable and I am excited to explore my options. The teacher taught me a lot every day. I want to absorb a lot of important things as a human being and become a good adult.
Thanks to the teacher, I was able to study hard for a year and get a job. thank you very much&.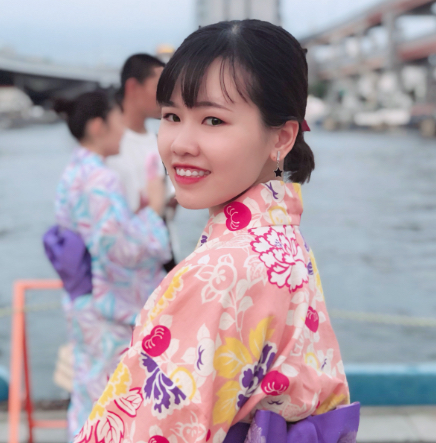 Nguyen Thu An
Nationality:Vietnam
Going to Soai University
If I hadn't enrolled in Daiwa Academy, I wouldn't have been so accustomed to living alone in Japan. When I first entered the university, they helped me with everything from opening a bank account to introducing a part-time job. And in the university entrance examination, the teacher in charge taught bowing, answering, pronunciation of words, etc. every day until the day before the interview, and thanks to the teacher, I was able to pass the university of my choice. I am really grateful.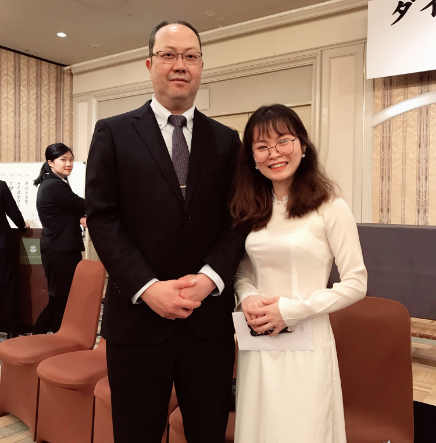 Nguyễn Thị Nhung
Nationality:Vietnam
Going to Hagoromo University of International Studies
When I was 18 years old, I came to Japan and started living alone independently. Everything was new to me and I had a lot of difficulty. However, the teacher at Daiwa Academy was very kind and helped me. He also taught me about Japanese customs and rules, and how to study Japanese. I made a lot of friends, experienced a part-time job for the first time, and made a lot of fun memories. By the way, I went to the university of my first choice and am now in the second year of university. I would like to thank all the teachers again. Thank you very much.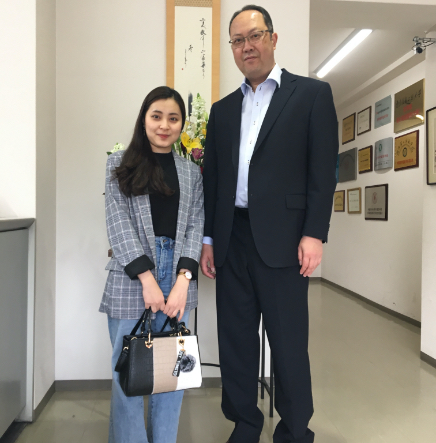 Huynh Thi Thao Nhi
Nationality:Vietnam
Hometown:Hue Foreign Language University
Company:Nico Nico Nori Co., Ltd.
While attending the Daiwa Academy, I was taught languages and Japanese culture by my teachers, and was also given me advice on future things such as going on to higher education and getting a job. Also, the grades of the subjects studied at Daiwa Academy can be exchanged for Hue Foreign Language University credits, and since I am actually studying in Japan, I became more interested than when I was in Vietnam. My grades were also good. With good grades, I graduated from both Daiwa Academy and a university in Vietnam.
Thanks to the teachers, I will do my best to the end without giving up.
Thank you very much. I think studying abroad in Japan was a great choice.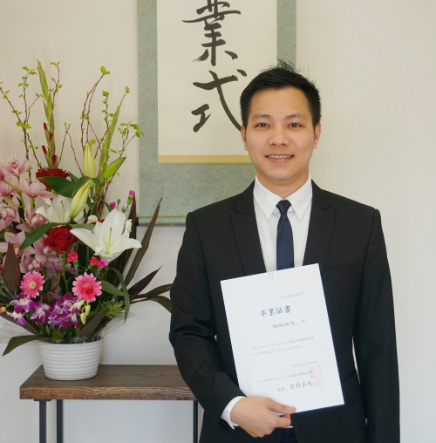 Nguyen Huu An
Nationality:Vietnam
Hometown: Hanoi University
Company: Akiyoshi,Yakitori
It is no exaggeration to say that Daiwa Academy is one of the best Japanese language schools in Osaka. I am talking about the kindness and enthusiasm of Daiwa Academy teachers and staff. Are the teachers simply compassionate and kind? No, that's not all. I think Daiwa teachers are literally professional teachers. I like the multicultural environment of Daiwa Academy. I learned a lot from the interaction between my teacher and my friends. Thank you from the bottom of my heart. Thank you very much. &Daiwa Academy, come on!&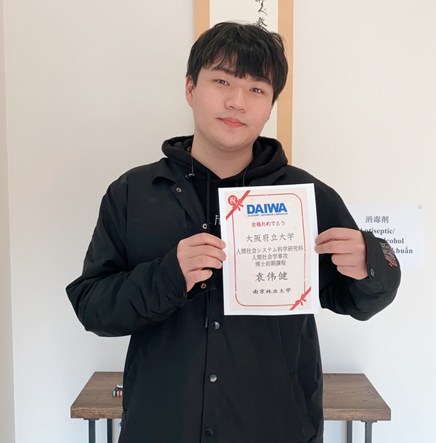 袁伟健
Nationality: China
Hometown: Nanjing Forestry University
Advancement: Osaka Prefecture University, Department of Human Sociology, Ph.D.
I am grateful to Daiwa Academy for giving me the opportunity to study in Osaka, Japan.
I would also like to thank the teachers at Daiwa Academy for their guidance and support. Studying abroad for two years was very helpful in learning about Japan and cultivating independence and self-control.
I was also able to experience different local cultures, meet many new classmates and friends, and broaden my horizons. At the same time, I was able to greatly improve my Japanese proficiency.
From now on, I will do my best to study at the graduate school of my choice.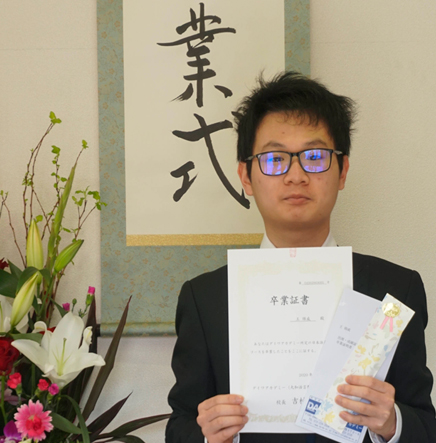 王锦威
Nationality: China
Hometown: Vocational Technology Academy
Advancement: Hagoromo University of International Studies, Faculty of Human Life, 1st year enrollment
Looking back, this year has been a very valuable year of my life.
A year ago, I just wanted to go to live in Japan, but now I want to study specialized knowledge at a Japanese university.
Studying abroad at Daiwa Academy was a wonderful experience that had a great impact on all aspects of my thinking, lifestyle, and future way of life.
In particular, for the first time in this study abroad program, I lived alone, apart from the kind parents I always lived with. At first, I was completely unfamiliar with living in Japan and interacting with Japanese people, but thanks to the teachers at Daiwa Academy, I was able to understand Japanese life culture and my Japanese became better and better. .. Compared to the beginning, I was able to improve my Japanese ability more than I imagined.
I'm really thankful to you!
黄秋实
Nationality: China
Hometown: Xihua University
Advancement: Nagoya University Graduate School of Humanities Department of Japanese Language Education Master's Program
I came to Daiwa Academy when I was in my fourth year of college. For the first six months, I wasn't sure about my daily life or going on to graduate school, but with the guidance and support of my teachers, I gradually got used to life in Japan and decided on the major I wanted to study.
I think the most important thing in preparing for the exam is the research plan and expertise. At first, I was quite worried about what to write, but my homeroom teacher gave me various advice and I was able to create a research plan. I think it is important to learn the expertise not sure if right word independently. Daiwa Academy has prepared a self-study room, so I used it a lot before the exam. Finally, one piece of advice for juniors. Preparing for the exam can be difficult, so it's important to relax moderately and maintain a good mental state.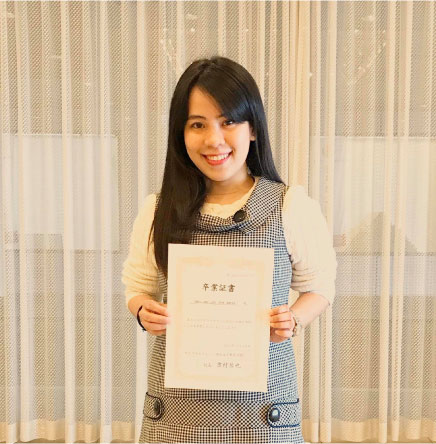 SEMILLANO LADY JEAN JEMINA
Nationality: Philippines
Advancement: Osaka Social Welfare College
If you are looking for a school that offers excellent standards of education, Daiwa Academy is the answer. I think it is a good school that provides the services needed by foreign students who want to learn Japanese. After studying at Daiwa Academy for a year, I learned a lot of useful knowledge in various aspects. The teachers don't just teach Japanese, the deeper you learn, the more you love Japan and Japanese.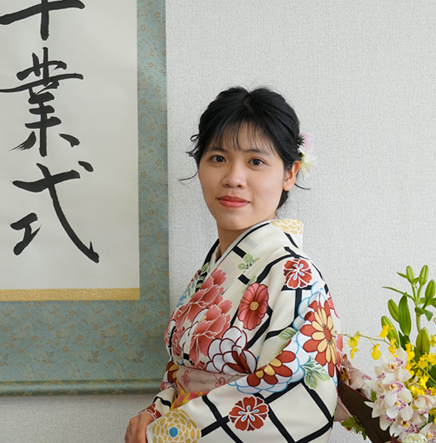 Do Thi Thao Nguyen
Nationality:Vietnam
Hometown:Hue Foreign Language University
Going to Kobe City University of Foreign Studies
To the teachers of Daiwa Academy , I thank you very much for your help. I would like to express my sincere gratitude. I studied a lot at Daiwa Academy. I think that the time when I was studying abroad was the time when I had the most various experiences since I was born. It was hard for me to live away from my family for the first time, but the teachers at the school supported me and took care of me. When I first came to Japan, I was nervous and restless, but thanks to the warm guidance of the teachers, I am now settled in I am full of gratitude. Two years seemed like a long time and was a short time. Thank you so much. I pray for the future development of Daiwa Academy.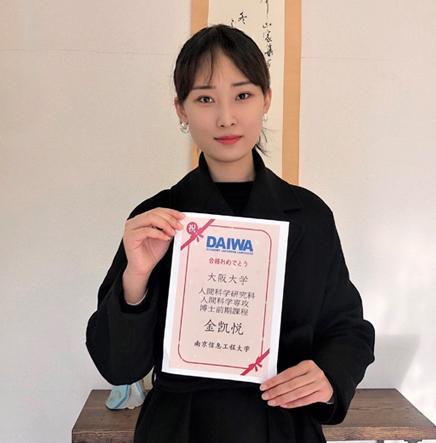 金凱悦
Nationality: China
Hometown: Nanjing Information Technology University
Advancement: Graduate School of Human Sciences, Osaka University-Master's Program
My name is Kim Kaietsu. I am a this classification style is confusing, better to keep it out graduate of Nanjing Information Technology University.
I came to Japan in October 2019. I have been preparing for graduate school while studying Japanese and specialized subjects at Daiwa Academy.
I worked hard for over a year and finally passed the graduate school entrance exam. I will go on to graduate school at Osaka University in April 2021.
Please think carefully about what you want to achieve in Japan. If you understand what you want to learn in Japan, how you want to learn, make a plan by creating your own goals, and do not forget your original intention, you will surely succeed.
If you want to study abroad in Japan, please come to Daiwa Academy.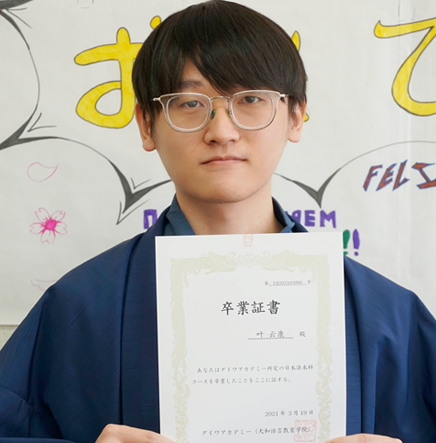 叶云康
Nationality: China
Hometown: Shenzhen Vocational Technology Academy
Going to Osaka Kyoiku University
I enrolled in Daiwa Academy in October 2019 and have already studied at Daiwa for a year and a half. For a year and a half at Daiwa, not only did I study Japanese at school, but the teachers also helped me a lot in terms of life in Japan. In terms of study, there are not only courses related to the Examination for Japanese University Admission for International Students, but also courses related to the Japanese Language Proficiency Test. Thanks to that, I was able to get high scores on both the EJU and the N1 exam, and finally passed the Osaka Kyoiku University. In terms of life, the school has a dormitory where you can live with peace of mind. For New Year's Day, we all visited the shrine together, and for the Lunar New During the festival, the school set up a stall which we experienced running at Daiwa, I was able to learn not only knowledge of Japanese but also knowledge of Japanese society and culture. I would like to express my gratitude to Dr. Wang, who taught the university entrance examination, Dr. Takahashi, who is in charge, and the teachers of other courses and offices. Without these teachers, I wouldn't have been able to get such a good grade. Thank you very much!
楊済帆
Nationality: China
Hometown: Nanjing Agricultural University
Advancement: Graduate School of Human Environmental Studies, Kyoto University-Research Student
It's been a year and a half since I came to Japan. One's thinking changes, perspectives change, sensibilities change, and the stimuli received from the surroundings are innumerable. I experienced loneliness, sadness, and feelings of wanting to give up. I was almost frustrated many times, but as a result of continuing to do my best without giving up my dreams, I was able to pass Kyoto University, which I had always wanted to enter.
Even in difficult times now, "do your best without giving up", is a motto that I believe can be applied to any situation. Please do your best until you are satisfied with it.
Of course, don't forget to relax!!